Today we'll be looking at something I'm sure everyone has a love- hate relationship with.
Fried Food.
So greasy but oh so flavourful. That hot burst of flavour as you bite into the batter of a crisp freshly fried, piping hot chicken drumstick.
So crunchy, so good.
Everyone seems to know that fried food is bad for you but how bad is bad and WHY? And is there a way to make frying healthier?
To answer these questions, lets first look at what happens when you fry food.
Frying/ Deep frying usually takes place from around 148 degree celsius and up. At the temperature, there is chemical reaction between starch and protein (amino acids). When theses sugar groups combine together, they turn brown and slightly caramelised. You can smell the 'fried food' aroma and it tastes great because of the crunch. This is called the Maillard reaction after Louis Camille Maillard.
This doesn't happen at 100 degree celsius when water boils so food that is steamed or boiled turns out very differently, taste and texture wise.


So, what is bad about frying?
Well, there are a couple of things to determine when thinking about the health detriments of frying. The two most important factors are the oil's smoke point and the temperature of the oil used when frying.
A "smoke point" is basically the tempertation at which the oil's chemical structure deterioates and forms toxic compounds. The oil turns rancid and these toxic compounds places oxidative stress on the body leading to things like hypertension, high cholestrol, protein malfunction and glucose intolerance.
Different oils have different smoke points.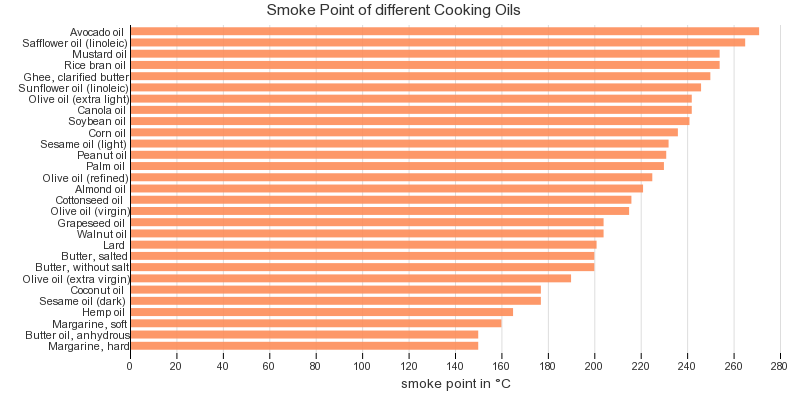 Smoke points decrease as you reuse the oil. So a restaurant which tout themselves as using "Extra light olive oil" to fry your food! may not be as healthy as they claim to be. If they continue to reuse their oil, as most restaurants do, the oil turns darker and more rancid and the smoke point lowers, forming more toxic compounds which each use of the oil.
Secondly, oils must be around 190 degree celsius for proper
frying to prevent absorption of the fat. If the temperature of the oil
is too low, the food you are frying would absorb all the oil, thus
turning into a calorie dense monster. If it's too high, the food would
burn.
As such, using an oil, like say… hemp oil with a smoke point of just
slightly over 160 degree celsius, would result in the breakdown of the
oil and the production of toxic compounds.
Also, when you fry carbohydrates, such as bread (western food stall at the kopitiam, anyone?) they produce a carcinogen (which is associated with cancer) called acrylamide. The high temperature levels also mean that a lot of vitamins and minerals are lost.
I personally don't think fried food should be avoided forever but fried food bought from outside?
YES DEFINITELY.
You know the fried mantou that comes with the Chili Crab or the bread from the Western food stall at the kopitiam? So yummy
dipped in the chicken chop sauce right? Well, it's most likely been
fried to death in a vat of reused oil that has turned rancid and has
lost whatever little minerals and vitamins it had in the beginning.
Since it's a carbohydrate, you are basically eating a little ball of
toxic compounds and acrylamide. (yeah, not so yummy anymore)
Frying per se has no real problems if you can control the oil's smoke point and temperature but you have no control of such things at all outside. Oil is reused over and over again and even proteins are breaded and crumbed with carbhydrates which soak up all the oil. Frying itself may be fine, but it's the outcome- the absorption of fat, the pre frying marination, the post frying seasoning (have you guys seen the macdonalds staff shake the salt cans before? Or the Shilin Staff shake the salt and spice cans over the fried chicken?) that can result in a calorie dense dish too high in salt and fat.
The real question then is: is there such a thing as "healthy frying" then?
Well, technically, yes. And here are some tips to fry your food a slightly healthier way:
1. Choose, choose, choose your oil wisely.
You want to choose a plant based oil that is heart healthy and has a high smoke point. Examples would. Coconut oil ( there are different varieties. Some are NOT suitable for frying at all), olive oil, peanut oil, canola oil, soy bean oil are all okay choices.
2. Watch your oil temperature
Your oil temperature should be above 190 degree celsius. Buy a thermometer or stick a wooden spatula into your oil. If bubbles form around the spoon, it's hot enough.When oil is hot enough, oil absorption is minimized because the outer layer is sealed once it hits the oil.
3. Change your oil frequently.
Remove black debris immediately as they form and try not to reuse the oil as this lowers the smoke point.
4. Choose your batter wisely.
Adding gluten free flour helps to lessen absorption of the oil. Adding a little baking soda also lessens oil absorption as it releases gas bubbles during the frying process.
5. Fry in small portions
You want to do this so as to prevent the temperature of the oil from dropping drastically thereby minimizing oil absorption.
6. If frying starches like fries, pre soak potatoes for 30 min.
Heating starch at high
temperatures increases the formation of Acrylamide, which has been
linked to heart disease and cancer risks. re-soaking potatoes for 30 minutes can slash acrylamide levels by up to
38% while soaking them for two hours can reduced acrylamide by 48%. Another
study concluded that the addition of rosemary
to dough prior to baking reduced acrylamide by up to 60%. Consuming
cooked starchy foods with veggies, especially cruciferous ones like
broccoli, cabbage, cauliflower and Brussels sprouts, can also reduce the
effects. (source)
7. Remove food from oil first before switching off the fire.
My mother taught me this so as not to make the food I was frying greasy but now I understand why. This is really important! Remove first! Then switch off fire to prevent a drop in temperature while food is still in the pan.
8. Let oil drain on paper towels. Limit intake by eating with a large side of salad or veg.
So that's it, folks!
To sum it up, fried food can be okay once in a while (or more? hehheh) if done carefully and properly. The best would be to fry the items yourself at home and stay away from fried food outside especially from fast food outlets and the like! You know how we are always so amazed that some jap tonkatsu restaurants sell deep fried food but they don't taste oily and gross? Or tempura? I think it's because the jap chefs have really mastered the art of frying. When done properly, fried food should
have absorbed very minimal oil and should not taste overly greasy. I was at Bollywood Veggies (another post on this spectacular place soon!) the other day and they have this amazing Fried Moringa Tempura that was so light and not greasy. I really believe fried fod doesn't have to be all that bad!
So just stay away from KFC and fry your own chicken at home! Enjoy!
In health and happiness. 🙂